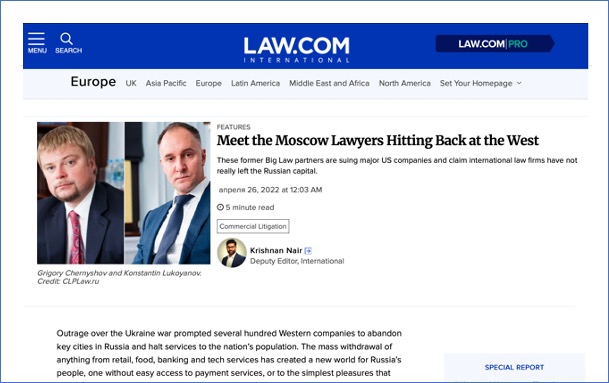 Law.com: «Московские адвокаты наносят ответный удар Западу»
---
Инициатива Адвокатского Бюро «Чернышов, Лукоянов и партнеры» по защите прав российских граждан вызвала интерес в западных СМИ. Предлагаем вашему вниманию полный текст статьи отраслевого портала Law.com
Meet the Moscow Lawyers Hitting Back at the West
These former Big Law partners are suing major US companies and claim international law firms have not really left the Russian capital.
By Krishnan Nair | апреля 26, 2022
Outrage over the Ukraine war prompted several hundred Western companies to abandon key cities in Russia and halt services to the nation's population. The mass withdrawal of anything from retail, food, banking and tech services has created a new world for Russia's people, one without easy access to payment services, or to the simplest pleasures that most take for granted: Streaming music and movies, for instance.
But, in Moscow, two lawyers are seeing to it that there are consequences for this.
Meet Grigory Chernyshov and Konstantin Lukoyanov of CLPLaw—two lawyers who previously worked at major international firms—who are now mounting legal challenges against some of the world's largest companies in class actions on behalf of Russian consumers. In their crosshairs so far are no less than Apple and Netflix.
But more will follow, Lukoyanov says. With reports that sanctions instituted by the U.S., the EU and the U.K. are hitting Russian citizens hard, CLP is on a mission "to hold Western companies accountable" for what it calls "dishonest actions against Russian users".
In a time of rising tensions between Russia and the West, it's a bold, unapologetic move, but they say it is one done purely with the interests of Russian consumers, and not the Russian state, at heart. "There is nothing about the state's or its entities' interests," Lukoyanov said.
"In the given circumstances, we are trying to do our best to protect the law, rights and interests of Russian consumers," adding that his firm is "considering other actions in most egregious cases".
And so, Apple and Netflix are first in the line of fire.
Both companies were at the very forefront of the wave of Silicon Valley giants that renounced Russia and uprooted and halted services in March in response to Putin's offensive against Ukraine. While Apple stopped its payment service in Russia, Netflix said it would not add Russian state channels to its service and would cease all future projects in the country.
So is this retribution for the Moscow exodus?
Lukoyanov insists these are "purely legal actions".
"We are lawyers, we don't give political assessments. The law was broken and it doesn't matter from the legal point of view what was the reason to breach the law or contract.
"There is a system of protection in civil law which should be applied under these circumstances as a matter of law. Otherwise, we don't need civil law as a regulatory framework. Obviously, the reasons to withdraw services in Russia and abuse Russian consumers' rights were not based on commercial or legal grounds."
For any lawyer, it's a tall order to take on two of the most prominent and wealthy companies in the world. But Lukoyanov and Chernyshov have a career history to match most rivals.
Lukoyanov is formerly a partner at Linklaters, while Chernyshov is an ex-White & Case partner. Between 2011 and 2015, both led the Russian disputes practices at their respective firms. Both also had stretches at elite Russian firm Egorov Puginsky Afanasiev & Partners.
They went on to establish their own eight-lawyer practice, Chernyshov Lukoyanov & Partners, in 2015.
"At some stage, we'd realized we had a serious background (top Russian and Western law firms), great experience and deep knowledge as well as loyal clients to set up a unique service for our clients in Russia," said Lukoyanov. "And we did that."
"We have a great team of like-minded experts so we offer our clients the most effective way of protecting their interests."
While the 'Moscow exodus' of large Western companies and law firms was welcomed in Europe, the U.S. and other parts of the world where Putin's actions have been condemned, in Russia, it is being viewed skeptically. Lukoyanov describes the flurry of law firms announcing Moscow departures as nothing more than a branding exercise, going as far as suggesting that few firms have actually, physically left.
"In reality, we don't see any big international law firms leaving Russia. They keep working with the same teams, on the same client matters and sitting in the same offices," he said. "This is nothing more at the moment than a public announcement of 'leaving' brands, just to comply, as we understand, with a general Western trend."
These are strong words. Divisive even. Partners at Big Law firms have previously said that leaving Russia could take time, given the complexities posed by local employment laws, the difficulties in relocating staff and other regulatory issues. When Linklaters announced it was closing its Moscow office, for instance, it said it was making efforts to relocate staff to London and Dubai.
Even if these firms are indeed leaving as stated and the Russian legal industry were suddenly teeming with out-of-work lawyers, Lukoyanov insists CLP is not in the market for new talent.
"We have a strong team and don't need fresh blood at the moment," Lukoyanov said. "At the same time, we definitely have an ability to respond quickly to changing situations if that will be in our interest and the interest of our clients."
Все новости